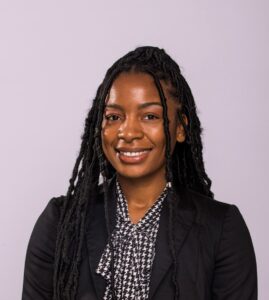 Born in New Rochelle, NY, and resident of New Jersey, Nicole Glass is the founder and owner of KR Home Improvement LLC, a real estate investment and construction company located in Mount Laurel, NJ. As a licensed contractor, KR Home Improvement LLC services South Jersey and Central Philadelphia. In its third year, Nicole's company focuses on residential and commercial services, including general construction, carpentry, home additions, flooring, remodeling, decks, and more.
Through KR Home Improvement, LLC, Nicole has successfully flipped multiple homes and completed renovations for residential and corporate properties. With a passion for teaching Millennials the importance of wealth building through real estate, she is now focused on reaching this critical age demographic. As a result, Nicole has created a podcast, "Creating Your Own Reality," to help spread the messages of financial discipline and patience. She teaches real estate investing and how to live and sustain the lifestyle of your dreams through specific practices. Topics range from maintaining good mental health along the journey to the importance of a circle of trusted friends and securing multiple income streams.
Nicole developed an interest in real estate while attending Rutgers University and interning for Congressman Hakeem Jefferies representing New York's 8th congressional district and presidential candidate Senator Cory Booker (D-NJ). Through their expertise, she grasped a more detailed understanding of how legislation impacts the real estate market. Before this experience, she interned for Congresswoman Vanessa L. Gibson of the Bronx's 16th Council District.
Following college graduation, Nicole became a licensed real estate agent and began working for the largest realtor company in New Jersey, Greystar. After advancing to management, she states, "I soon realized that everything I was accomplishing for Greystar, I could achieve for myself." As the impetus for leaving Greystar, KR Home Improvement was founded shortly afterward.
Nicole also served as an Administrative Assistant for six years with At the Well Conferences, Inc., a non-profit organization founded by her mother Jacqueline Glass, which provides conferences and events to assist young minority women in becoming future leaders. Nicole credits her mother with instilling enough pride and self-esteem to believe she could become a successful entrepreneur.
Nicole holds a Bachelor's Degree in Political Science with a minor in Entrepreneurship from Rutgers University, New Brunswick, NJ. She is a licensed real estate agent in New Jersey and Pennsylvania.